10-25-2021, 08:04 PM
Usual character name: Duke Nukem (name i use when playin sec), Mac McGee, or Syndicate Chef
BYOND username: Jakson27
Discord username (if you are on our discord): Jak#3251
Recommended by (if applicable): JC Denton, Kilgor Blakmen, Bruce McAfee
Goon servers you play: main 1, main 1, and a little bit of main 1
Reason for application:
The tools that the HoS have are tools that are extremely powerful, and could really help the round and create more interactions in the station that are fun for everyone. When in the right hands, they can singlehandedly save the station. Quite often when I play security, I run into situations where I lack the tools to deal with a situation, giving someone back their ID card, accessing AI upload to fix a rogue AI, rushing to someplace to save a health alert behind a locked door, or maybe just someone to lead a team of security officers. That's the most important one, as I commonly see security officers wordlessly patrolling the station, not talking on the radio, or not being cooperative with their team. A security team that works together is a security team that wins together. When I see team's play by the radio and watch the health alerts, you can really catch some bad guys. I've been at both ends to see this kind of teamwork at play, and it always results positively. But some teams don't work cooperatively, and I think with myself as HoS, I could help wrangle up the team together and ensure this kind of teamwork is at play.
Security experience (300 word minimum):
I originally was a hard security main a while back, and applied but then lost interest after my first application was denied. I became well known in the community, and have started playing on and off again since. I consider myself to be a pretty robust individual who knows how to be prepared without powergaming to the most unfun extent. I also work well under stress, and even in chaotic stations, I know which situations to prioritize, and how to deal with it. Recently I began playing security again, and it is quite enjoyable, but I'm trying to not play it too often, to avoid burnout. If I were to estimate the amount of hours of experience I have on sec, maybe between roughly 100 hours of security experience at the least? Out of my total 837 hours at the time of writing this. I also believe I have experience in nearly all other parts of the game, except for botany and genetics and maybe some azone nerdery.
Answer two or more of the following:
What advice would you give to other sec players?
ALWAYS check the radio and PDA alerts. That shit is important. Health alerts and death alerts are especially important, and you can really let down the entire security team if you ignore a death alert of one of your colleagues. Radio messages should always be checked, if you don't, then Staffie McStafferson is going to be angry you didn't come rescue him after he yelled in the radio that he was being murdered. This is also an extension of teamwork skills, checking your radio is an important factor of teamwork.
Also, don't play like a hardass, even if it's main, have a little fun. Don't be the lame super silent HoS who's validhunts the station. Your job as a HoS should be to improve the interactions for all players, regardless of them being valid or not.
What was one of your favorite security moments? (Either playing as a sec officer or interacting with one)
A personal favorite security moment was a chef traitor round, I had killed and cooked about 15 people, and secretly killed a few security officers after luring them into the freezer. Eventually I was busted, and was chased out of my kitchen and into disposals, where I was cornered in a dark hallway. I was finally stunned and handcuffed. I asked them for one last request, and they comply. My last request is to be cooked into a sloppy joe. The HoS and his team take me into my kitchen and kill me, setting off my microbombs, joining me in death.  
What game improvements or changes do you think would benefit security players?
I personally wish that some type of reinforced door existed, making hacking doors much harder. These doors could be used in security, armory, AI upload, important offices, and many more. This would really help the balance of the game, as it is far too easy to hack into places. 
Describe any differences in your playstyle when part of a full security team and when being the only security officer.
I know this isn't the question but I think a more relevant question to ask would be how you would act in a situation where the station is highly chaotic, several officers are dead, cloner is dead, power is out, and antags are running loose. In this situation it is important to keep track of your foes, and prioritize them. A rogue AI shouldn't be a high threat compared to somebody with a stun baton and a port-a-puke who has killed 4 people so far.
Answer one or more of the following fun questions (because it's important for the HoS to be fun):
What's a security gimmick that you've ran or wanted to run?
Turn the brig into a public zoo at the public market where passerby's can shame at free will.
Draw a picture!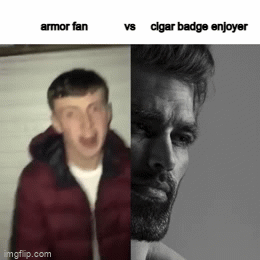 as you can see here, i have portrayed myself as the chad you and the soyjak, you fool
Previous bans (while this will not affect your application lying about it will):
Spammed a lighter with an autoclicker
Made some no-no jokes on the radio show