10-26-2019, 01:08 AM (This post was last modified: 10-27-2019, 09:26 AM by popecrunch.)
My Forum Username: Iamgoofball
Date and time of the ban: 11-10-2017
Who banned me: Not sure, maybe it was popecrunch? (pope edit: it wasn't. it was wonk, but pope hollered at him a whole bunch.)
Message given in the kick, if present: Not sure, but I know the ban reason is for making the off topic spam post linked to in this thread.
Summary of events leading up to the ban: I posted a very dumb thread in Admin Complaints at this link: 
https://forum.ss13.co/showthread.php?tid=9583
 about two years ago. I was promptly banned, and popecrunch put up an announcement post saying "hey dont post garbage in the serious business subforums".
Why I should be unbanned: This was an exceedingly stupid thing to do on my part and I fully apologize. This ban is well deserved, and I totally understand if you choose to leave it intact. I would like to appeal this though as it has been two years and I feel that I have learned my lesson on this ban.
1. posting bad jokes in the serious complaints forum for people to report actual serious events of administration abuse is not okay in any way, shape, or form. people are trying to do serious shit in there and getting in the way of that with bad awful fyad tier jokes is not okay
2. this attempt at a joke was shitty and not funny period, and i apologize to anyone who had the misfortune of seeing it originally
3. using some kid's fanfiction as the butt of a joke is kinda extremely shitty and really just bashing of kids who wanted to write in familiar environments with characters they're used to, people shit on fanfiction writers enough as is, treating some kid's work they poured a ton of care and thought into even if it is by definition not exactly the best written is just incredibly shitty and i regret that a lot, there's problematic messaging and theming in the fanfiction that's definitely not okay but it's still a beginning writer's work and shitting on that endlessly is just awful
As for why I created this account to appeal it, Gannets informed me via Discord direct message when I asked about if there was anywhere I could appeal the ban that I should post here, and make a new account if I needed to, as long as I explained who I was. I apologize for evading this to appeal but this was the option laid out to me by a staff member when I contacted them to ask about where I could file an appeal for the forums ban at.
I am not posting the exact verbage of the conversation here out of respect for private messages being private but if Gannets okays me posting it I will.
---
Gannets okayed me posting the image, censored my discord because uhh, there's some kinda huge weirdos in the ss13 community that are mad at me for not being a nazi and i dont really want them trying to harass me anymore on the offchance they see this thread, will PM the uncensored version to admins who ask though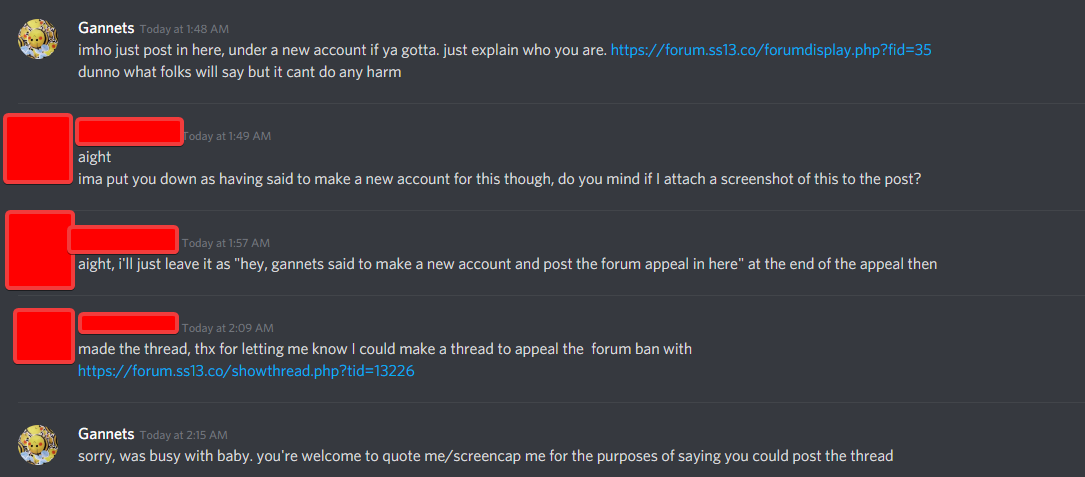 ---
oh also activation emails for the forums are getting spam filtered by GMail, not sure why but may want to contact google about that